5 Things We Want To Share With Our Future SVP, Software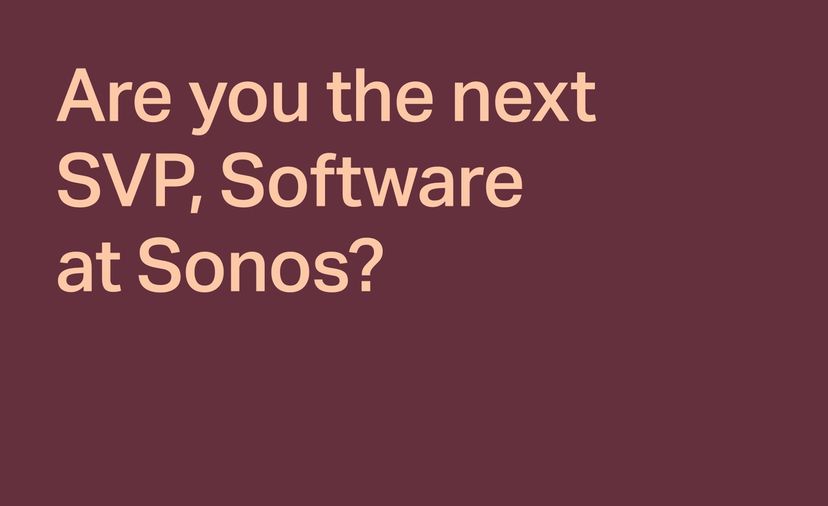 Today, we're launching a search for the new SVP of Software at Sonos. With Sonos playing in more than 11 million homes, the role is an incredible opportunity to create end-to-end experiences that most people can only dream of.
And with such vast potential for impact, we wanted to go beyond a traditional job posting. (Although we have that too.) So, we interviewed colleagues across the software team to get their thoughts on the opportunities, challenges, and exciting possibilities that lie ahead for whoever steps into this role. Maybe that's you? Read on for an inside glimpse of what you can expect when you join the team.
1. Our software is the "magic."
If you've used Sonos before, you know that the Sonos experience is more than just sounds coming from a speaker. It's the seamlessness of moving from room to room while listening to your favorite true crime podcast. It's the ease of asking your voice assistant to turn down the volume or convert ounces to cups while you're cooking. And it's the joy of soundtracking a picnic with a collaborative playlist on a speaker that weighs less than a pound.
None of this would be possible without the hard-working software inside our speakers and components. "There's a perception that we're a hardware company because everything we sell is hardware," says Jim Dolan, Vice President, Software Development. "And the hardware is beautiful. It's amazing. But the magic of the system is the software. The speaker itself does not enable the system; the software enables the system."
Visually, Sonos will continue to be associated with beautiful industrial design (even as we explore alternate form-factors.) But the opportunities to create impactful, elegant experiences through our software are endless. Dolan continues, "We've got a combination of software and hardware converging on our products—WiFi, acoustics, mobile applications, cloud services, embedded, firmware...it's kind of an amazing palette. And there's so much more that we can do."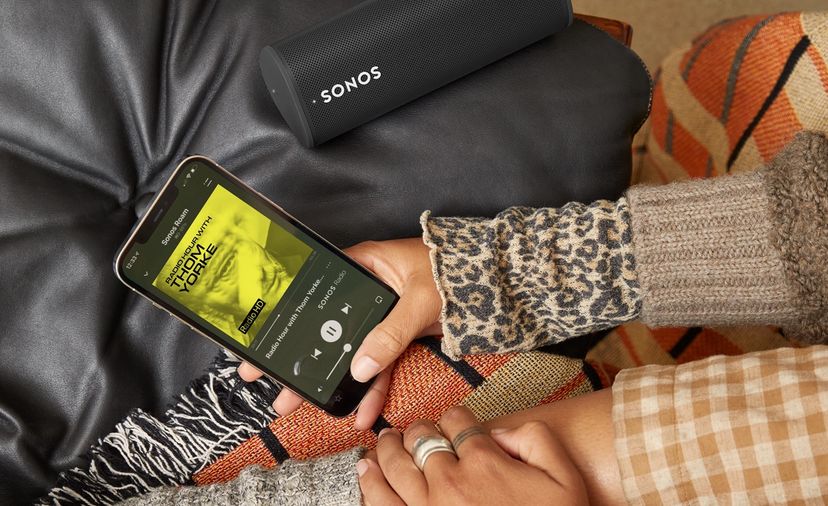 2. You'll be joining at a pivotal moment.
"We're on the cusp of building the next big thing in software," says Sid Patel, Director, Software Quality. "By taking a more cloud-first approach, we can go further outside the home and rethink what's possible with the Sonos experience." Sarah Shekher, Senior Software Engineer, agrees. "I have always seen Sonos as being able to be everywhere," she says. "If we're doing our jobs right, we will be in restaurants, airplanes, hotels, your car, and wherever else speakers can be. And that's a huge opportunity to change how people listen and how they move with Sonos."
When Sonos was founded 19 years ago, everything was on the local network. Since then, we've continued to drive our technology forward. Moving to a cloud streaming content model and then towards a more cloud-based infrastructure has opened doors for the types of opportunities mentioned by Patel and Shekher. But going after those opportunities requires massive growth. "We're not just going to be growing as an organization, but we're growing our technology as well," says Diane Roberts, Senior Director, Software Development. "As we grow the organization, we need to have the ability to keep moving fast, bring each other along, and feel like we're all moving in the same direction. Doing all of that while maintaining the best parts of who we are is what makes this a really interesting challenge."
Patel follows up with an additional layer of opportunity: "We always tend to focus on what we're going to build. But right now, we have a real opportunity to think about how we want to do that. How do we become a really agile organization? How do we use a bunch of data to provide more opportunities to our customers? How can we ship faster? I think the how part is really an opportunity for our next SVP."
3. An incredible team—which you'll continue to grow—awaits you.
Software is the largest team at Sonos, and we plan to grow it significantly in the coming years. So, what can you expect from such a big team spread across locations and disciplines? "You're going to see a lot of passionate people," says Patel. Dolan agrees: "The teams are very dedicated and hard-working. They are willing to go the extra mile to make sure that we've got a good product, that the quality is right, and that we don't ship something that we're not proud of."
Sonos is a place where people are inspired and empowered to do their best work. As such, you'll work with colleagues who have been at Sonos from the beginning. Patel sees this as another exciting opportunity for our future SVP, Software. "How do you take that experience and culture that's been here for a while, and blend it with what's happening in the market today?" he asks.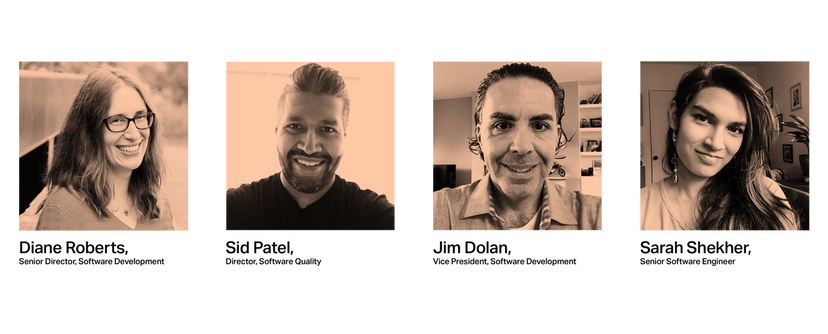 4. Stay where you are. Or don't!
As our next SVP of Software, you know that it's about impact, not location. So you can do this role from wherever you are in North America. Or, join us at one of our hub offices in Santa Barbara, Boston, Seattle, or San Francisco. Wherever you choose, you'll be leading a team that is well-equipped to work collaboratively across the globe. That's because we've intentionally been distributed from the start.
Roberts explains, "We've been multi-office by choice for decades, so we're used to being distributed. Coming out of the pandemic, I think you'll see more of this, but we have an established track record of knowing how to deal with it. It's why we were able to do as well as we did during the pandemic. It's kind of unique that we've always believed in multi-location teams." It's this knowledge, combined with sophisticated conferencing technologies and other collaborative software, that will enable you and your future team to get things done from wherever you are. 
Our distribution has the added benefit of contributing to the rich culture at Sonos. "The cultures that we've built in each of the offices have a lot of similarities, but are not forcibly made the same," says Roberts, who serves as site lead for our Boston office. "We take into account things like the neighborhoods where our offices are located. And that creates a kind-of dual culture situation. There's the full company culture and then there's a little bit of local flavor in each of the offices. And then the teams have their own norms that they operate under. When they're all complimentary, it feels really good. It feels like you're a part of something."
5. Your work at Sonos will matter.
Every day we receive feedback from our owners about the difference that Sonos makes in their lives. They share stories about how Sonos saved their weddings. They tell us about how Sonos comforted their sick loved ones when they were in the hospital. They send videos of Sonos bringing their families together for meals, birthdays, holidays, and random Tuesday night dance parties. And for many of us, this is why we show up every day at Sonos.
"It's the human aspect that keeps me here, the experience we bring to people's homes," says Patel. "When you tell people you work for Sonos, they say, 'I love Sonos.' It's awesome to be a leader that helps make that happen. If you can connect the technical aspect of Sonos to that emotion, there's your unicorn."
The work we do here has a tangible and meaningful impact on people's lives. And so will yours.
So, are you ready to apply? Check out the official job description here. Qualified and interested candidates are invited to email their LinkedIn profile and/or résumé to software@sonos.com. Good luck! We can't wait for you to join us.

Update: We are pleased to share that we have found our new SVP of Software! Learn more about Rebecca Zavin here.