Diversifying the Beta Tester Pool
Kevin Brown
Principal Beta Program Manager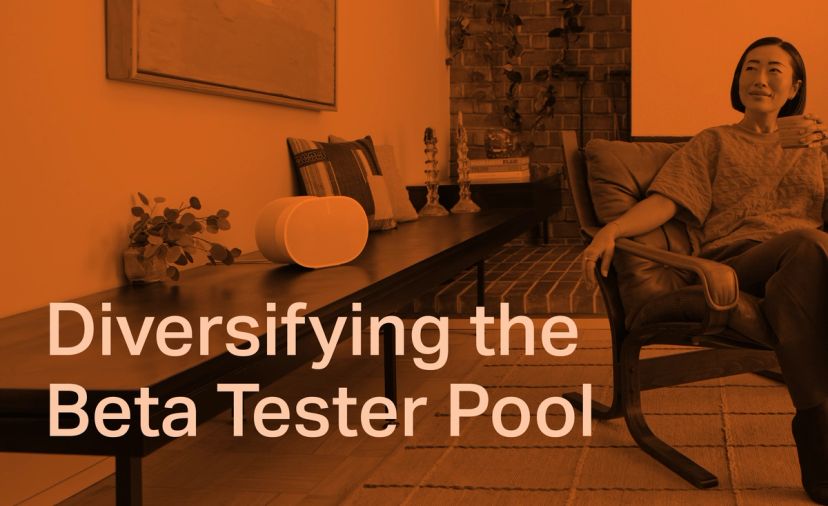 As people, our unique identities determine how we experience the world around us, including the products we use and enjoy. At Sonos, we strive to create products and experiences that are intimate and human; that help people feel good, feel more, and reconnect with joy and vitality. No one should be excluded from these experiences. We want everyone who interacts with one of our products to feel like it was created just for them, which makes having an inclusive product design strategy that incorporates testing products with a diverse population essential.
Today, Sonos relies on a pool of almost 200,000 beta participants to test our products before they go to market. In 2020, the Beta Team conducted an in-depth analysis of the demographics of our tester pool. To ensure the perspectives informing our product development better reflect those of our customer, the team launched an initiative to increase the representation of non-male testers. The program has since become one of the leading elements of an organization-wide effort to provide diverse insights about Sonos products to our executive and product teams.
Prior to launching this initiative, the Beta Team held discovery sessions with Mathison, a unified platform for measuring, benchmarking, and taking action on DEI goals, to learn how other companies test their products through an inclusive lens. We learned that while most organizations have structured approaches for diversifying their employee base, not as many have an inclusive product design strategy.
Upon launch, we learned that the perception of beta testing skews masculine and technical, which was likely discouraging underrepresented individuals from joining our program. To reframe the program so that it appealed to everyone, we developed a 5-minute video that showcases the humanity in beta testing, the very thing that helps make Sonos products loved by everyone. As the program evolved, we began to look at diversifying our tester pool across several more demographics. This meant gathering perspectives from potential listeners—people who are not current customers, but could be in the future. A diverse tester population will help us shape the Sonos experience for everyone, broadening the appeal to audiences we may otherwise not reach and improving the experience for current customers.

To measure success in the absence of industry benchmarks, we set recruitment targets for gender, race, and sexual orientation, using our customer makeup and tester demographics as a baseline. Since launching the initiative, and through our partnership with PowerToFly, a diversity recruitment platform, we've doubled the size of our overall tester pool, increased our non-male tester population by 360% and added 19,000 BIPOC and 11,300 LGBTQIA+ testers to our pool. What's more, 53% of testers who have signed up in the past year identify with an underrepresented group. Most importantly, this initiative has helped Sonos to develop its broader inclusive design strategy. We're already learning from the testers we've recruited and using their insights to build products that make every customer feel seen.
More from Sonos Tech Blog: